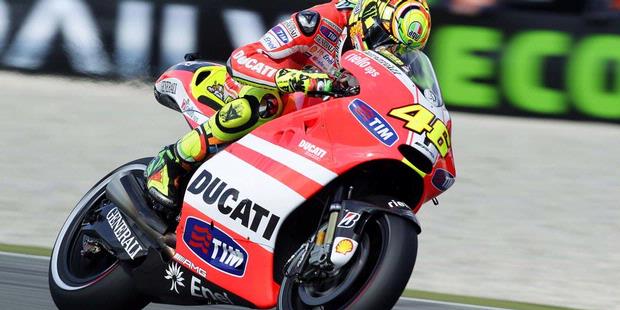 Valentino Rossi confirmed, the decision to switch to the new Ducati GP11.1 when appearing at the Dutch Grand Prix on Saturday (06.25.11), is the right thing, despite his difficulties over the weekend, and closed to within 30 seconds while finishing in the back of the Yamaha riders , Ben Spies. In the seventh race at the Assen circuit, Rossi was ranked fourth.
Indeed, in Assen Ducati make a change that is quite surprising since they combine the 800cc engine with a chassis of the motor 2012. It is rated as a solution to overcome the poor performance of the Ducati during the 2011 season. Rossi confident, GP11.1 performance has more potential than ever before.
"It was a good decision, we had to do: we did not have much margin improvement with GP11.1," said Rossi told Motosprint.
"This new motor has a step forward: for example, the back is more stable, more profitable and new gearbox. We can say that the classics of the Ducati where kerab rear tire slipping while increasing speed, is gone."
Nevertheless, "The Doctor" admitted that he and his team still face a big challenge to get back to victory lane. They need a more kohesih and efficiently during the race weekend.
"We do not yet understand how exactly to set this bike, and I do not fully understand how to control it. Most of them, it always spends a long time to find the best solution.
"It took us too long to find the right setting at the race. We need to find ways to make bike more comfortable to drive on the second day of training, in order to set it up for the race.
"For example, if on the second day I could find the level of the race here, then I can certainly bring something different during the race: I could probably fight for the podium. Instead, as usual, I started without knowing what his expectations. The way is difficult. "
Rossi also remain confident in the decision to bring his own team, led by Jeremy Burgess, the Ducati. However, he acknowledged that the transition is still a slight problem.
"This team has worked with me for years: I do not doubt their ability. We need time to get to know the Ducati. The experience of the motor is very important to know, and we, both me and the team, not have it. But in the garage there is a technician know this bike very well, so they could help us.
"When once you get used to winning and you yourself find difficult, you have two possibilities: if you work to get back to winning ways, or you lose the passion and surrender. I have chosen the first solution, and I really hope that is what will be done also by my team. "