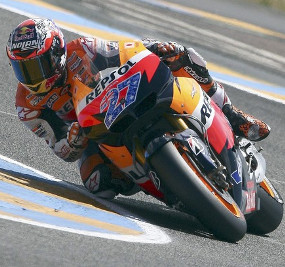 Casey Stoner managed to retain its dominance since the free practice I with a champion. Dani Pedrosa crashes. While Valentino Rossi won his first podium this season. Le Mans is full of stories.
In the race at Le Mans Circuit on Sunday (05/15/2011) night local time, Stoner initially failed to maintain pole position he achieved in the qualifying session. Leading position falls into the hands of teammate, Pedrosa.
But, Stoner continues to print the fastest laps until finally managed to overtake the Spaniard's. Stories for Stoner as finished up here because the fact he was not touched until the end of another racer.
Stoner managed to maintain a distance with Pedrosa, at least up to about 0.6 seconds. As for Pedrosa, he would get sad fate.
When the middle of a fight with Marco Simoncelli, he slipped to his right shoulder hit the track first. Pedrosa was unable to continue the race and he walked, holding his shoulder. From the news at the end of the race, Pedrosa back injury, this time in his right shoulder that.
Pedrosa fall incident that also resulted in Simoncelli. He is considered guilty and must eventually serving drive-through penalty. Simoncelli degenerate position and a blessing for Rossi.
The Doctor spur his bike to get past Jorge Lorenzo and finally sat down at number three. Shortly thereafter, Lorenzo lost position after overtaken by Andrea Dovizioso. Stoner, Rossi and Dovizioso into three leading drivers with terlemparnya Simoncelli.
There was a duel between Rossi and Dovizioso. Like the race in Portugal, Dovizioso back successfully winning a duel with Rossi. He claims to finish in second position and be a Honda put two drivers end the race in two leading position.
However, despite only finishing in third position, Rossi used to be complacent because this is the first time he got a podium this season.