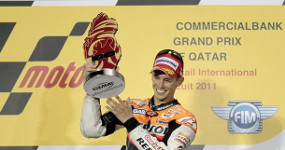 Losail - Losail indeed "circuit" Casey Stoner. Dominant since the free practice sessions, Stoner eventually won the race which took place on Monday (3/21/2011) pm dawn, this. Stoner again became king at the Losail Circuit.
If you look at records in the four previous seasons, only one failed to become champion Stoner in Losail, namely in 2010, at which time the race was won by Valentino Rossi.
The rest, from 2007 to 2009, Losail is owned by Stoner. And this time, the drivers from Australia that again showed its dominance in spite of time to get fierce battle of Dani Pedrosa in the middle of the race.
Pole which he held also had taken over Pedrosa in the early races. In fact, his position was once overtaken by Jorge Lorenzo in the early races. But Stoner was able to improve their record of the time little by little to re-take the lead.
Once inside the front, Stoner's success makes a significant distance over Pedrosa. He was superior to 1.4 seconds over his fellow Honda and let it fight with Lorenzo to compete for second position.
Race getting closer to the end and Stoner had no idea which is on the circuit. Three laps before the end of the race, its distance from Lorenzo and Pedrosa had widened to about 3.5 seconds.
As a result, the first race this season was his.