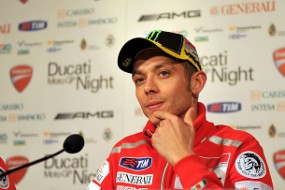 Bologna - Valentino Rossi gave an assessment of its main rivals in MotoGP 2011. He called Casey Stoner as favorites, while Jorge Lorenzo regarded as an unpleasant person.
Competition MotoGP 2011 season is predicted to be dominated by racers 'aliens'. In addition to Rossi, there is the name of Stoner, Lorenzo and Dani Pedrosa.
Rossi had a special assessment to its rivals it. Ducati rider Stoner of this rate as a favorite, but still often make the same mistake.
"Stoner is a favorite for the championship, but I also want to say it brings bad luck for him," joked Rossi, quoted by Crash.
"I gave him number 10 out of 10 for speed and talent, but a bit less for tactics and intelligence. He is a lunatic that is often repeating the same mistakes," he said.
What about Lorenzo? Judge Lorenzo Rossi is a great racer, but less enjoyable personally.
"Jorge was a 'great' because everyone agrees about himself in the sense that everyone thinks he's not fun," explained Rossi.
"He's strong, he deserved to get the number 9.5. I will not say he is smart because it is a strong word. Say he's sly," he concluded.
Finally, Rossi gave the assessment to his team mate, Nicky Hayden and Honda Gresini, Marco Simoncelli.
"Hayden is strong, he deserves a figure 8. He was my teammate and therefore he was my first competition. The wall of separation? With Hayden will not be there, whereas with Lorenzo (Yamaha-red) was there because I hope to teach him not all my tricks, "Rossi straightforward.
"Simoncelli deserved 8.5. He still must show more, but he's got a very fast Honda and he will become a thorn in my flesh," due diligence.
Detik.sport.com