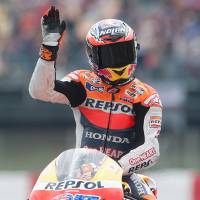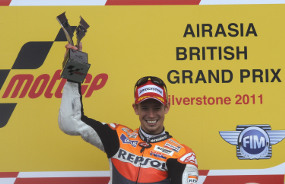 Silverstone - Casey Stoner enhance its dominance in the British MotoGP. He successfully cope with a wet Silverstone circuit, slippery, and take a number of casualties. Became the top prize on these achievements.
Stoner wins British MotoGP race held on Sunday (12/06/2011) evening hrs. Repsol Honda's mainstay is far enough ahead of Andrea Dovizioso and Colin Edwards, each of which occupies the second and third positions.
The rain which flushed Silverstone Circuit to make the track becomes very slippery. The drivers must be extra careful not to fall.
Nevertheless, there remain a number of drivers who become victims. Two Yamaha rider, Jorge Lorenzo and Ben Spies, slip in adjacent time. Marco Simoncelli was to bite the fingers because it involved a victim slippery Silverstone.
With this victory, Stoner successfully took over the leadership from the hands of Lorenzo's championship. The Australian rider was collecting 116 points from six series. He is 18 points ahead of Lorenzo.
Dovizioso and Valentino Rossi in third and fourth positions. They each collected 83 and 68 points.
The road race
Lorenzo immediately shot at the beginning of the race. He was followed Dovizioso and Stoner. Simoncelli slipped to fourth position.
Substitution position of leader of the race happened a few moments later. Yamaha racer Dovizioso overtake it and darted forward.
On the fourth lap, overtaking Stoner's turn Dovizioso. Behind him followed Lorenzo, Simoncelli, Spies, Edwards, and Hayden.
Until the seventh lap, Stoner still led at the front. He recorded 2.9 seconds lead over Dovizioso. Lorenzo himself seemed to struggle to shift the position of Dovi.
One lap later, the track is slippery from the rain started to take casualties. Spies finished first driver who slipped, followed by Hector Barbera and Lorenzo. Yamaha duo could not continue the race, while Barbera was still able to return to the track.
Where is Valentino Rossi? The Doctor is in seventh position, lagging far enough away from the race leader.
Simoncelli Dovizioso evicted from the second position. But, it did not last long because a few moments later the driver was also a victim frizzy slippery Silverstone circuit. He slipped and could not continue the race.
With the release of Simoncelli, Edwards nudged into third position. He was followed by Hayden, Bautista, Rossi, and Abraham.
Until the race seven laps remaining, Stoner still in front. He was winning more than nine seconds over Dovizioso.
There was no significant change in the position until the race finished. It seems they chose to be careful and finish the race rather than slipping.
Stoner eventually finish the race at the beginning. Triumph comes with success Dovizioso Honda finished second.
Edwards noted remarkable results at Silverstone. He could be on the podium despite last week suffered a new fracture in Catalunya.