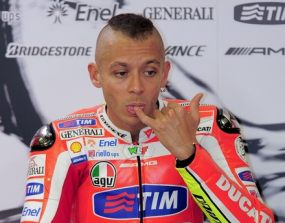 Valentino Rossi's performance decreases as age increases.
But the relationship between the race and increasing age as The Doctor would argue very motivated today.


This statement expressed by Rossi's father, Graziano Rossi in an interview with the U.S..
Although now is the age of 32 years of Rossi still has the hunger of the same title as in previous years.


"Currently Valentino motivated more than ever he felt before. Been a long time he did not win and he has a hunger to be champions again," Graziano said when asked about the competitiveness of Rossi and his age is already above 30 years.


Performance Rossi who declined sharply in this season have made many doubt his ability to compete with the younger riders such as Casey Stoner, Dani Pedrosa or Jorge Lorenzo.


Throughout this season, Rossi has never been a champion, his best achievement was the third podium in MotoGP France.
As a result he became scattered in the competitive world champion with while sitting in fifth position after collecting 58 points, 40 adrift of Jorge Lorenzo at the top position.


Another suggestion that emerged related to these conditions is the performance of Ducati motorcycles are not maximized.
It also was coupled with the condition Rossi who had fully recovered after undergoing surgery at the end of last season.


"Until two races no doubt if it's because his shoulders, it raises a serious problem. Now that his shoulder has improved and it is time to fight with Ducati chassis," he continued.


Finally, Graziano Rossi also believe that loyal fans will not miss the related result that he can sag.


"Fans Valentino is now working with him. Even if the duo were, Rossi and Ducati, not a winner, Valentino had a confidence, loyalty and public loyalty is always desirable."


"Even if without a win all season, loyalty is not going to change. The result will not change allegiance at Valentino," the completion.