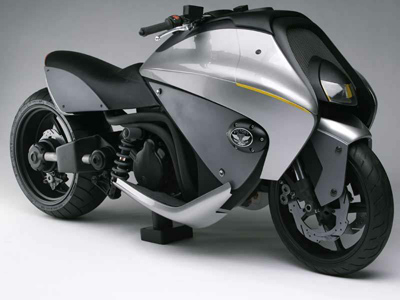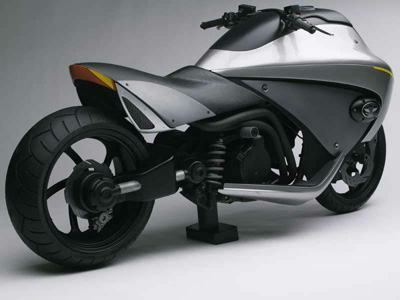 The Victory Vision 800 concept was shown at the 2005 Long Beach (California) International Motorcycle Show.
The Victory Vision 800 is a true concept bike, designed to show just how radical Victory can think. Victory, a division of Polaris ATV's has no intention of producing the Vision 800, but the design is important nonetheless.
The Vision 800 is powered by an 800 cc flat parallel twin, running through a continuously variable transmission, (CVT) connected to an exposed shaft drive incorporated into the single-sided swing arm.
Victory's traditional cruiser style riding position appears on the Vision 800 with the use of long running boards and the lack of any foot controls. Presumably the lack of a clutch, or gears, allows the rear brake to be relocated to the handlebars.
The extreme, front end bias, bulky nose houses storage for two helmets, or anything else, while providing wind protection for the rider. This is in sharp contrast to the short and stubby tail section.