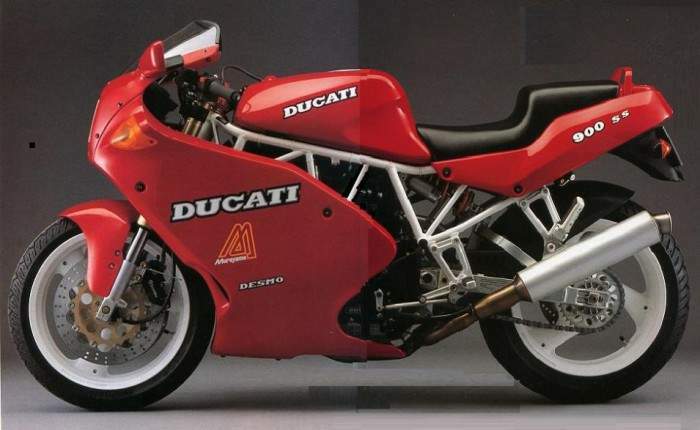 Whereas the big Japanese bike manufacturers spent the late 60's and 70's pushing the envelope as far as power and speed was concerned, it was the European manufacturers who pursued a blend of power and handling. European bikes such as the Moto Guzzi 750S3 were down on power as compared to some of their Japanese rivals, but could still outperform them in real world conditions, especially where cornering was an issue. One of the issues of the day however, was that lack of relative power meant that they could be slow from a standing start.
However, with the likes of Giacomo Agostini sweeping all before him with the MV Agusta, another European bike, demand for these exotic race based machines was high. It was Ducati that held Agostini at bay in 1972 however, when the pair of 750 V-twin Ducatis came first and second at the Imola 200. This win inspired Ducati to produce 25 Imola based road legal bikes in 1973 and followed these up with the 750 Super Sport.
Ducati then produced the 900SS. The engine of the 900SS was a Ducati 860GT based unit which kept the 74.4mm stroke of the 750, but with an increased bore of 86mm giving a total capacity of 864cc which produced 79bhp at the crank. The engine retained the traditional 90 degree V-twin with desmodromic valves and massive 40mm Dell'Orto carburetors. The machine was a stunner both visually and in terms of performance. The long wheelbase kept the bike stable at high speeds and was a feature of Italian bikes of the time. No electric start, clip on handlebars, rear set foot pegs and a beautiful half fairing meant that this was a true race replica that went and handled as well as it looked - which in black with gold trim was fantastic.